Truncated fifth waves are among the trickiest patterns in the catalogue of the Elliott Wave Principle. The worst about them is that you can not predict a truncation. You can only guess, but the fact that a truncation may occur once in a hundred times makes guessing pointless. In this article we will use USD/JPY as an example to explain how you should prepare, think and reason in case of a truncated fifth wave. On the first chart below you can see an impulse with a missing fifth wave.
Recommended reading: Elliott Wave Patterns
Normally in a regular impulsive wave, after the end of wave (4) you should expect prices to start rising again and wave (5) to exceed the top of wave (3).
The above chart depicts that the bullish expectations were fulfilled and USD/JPY has moved significantly to the upside. In order to gain more confidence we look at the internal wave structure of this rise.
What we see on the smaller time-frame is that the rally, which started when wave (4) ended is impulsive. Our chain of thought here is as follows: the top of wave (3) is still above current levels. => truncations occur once in a hundred times. => this must be wave 1 of wave (5), not the whole wave (5). So, going with the highest probability, we assume there is still room for USD/JPY to go north. The chart below shows how the forecast looks from that perspective.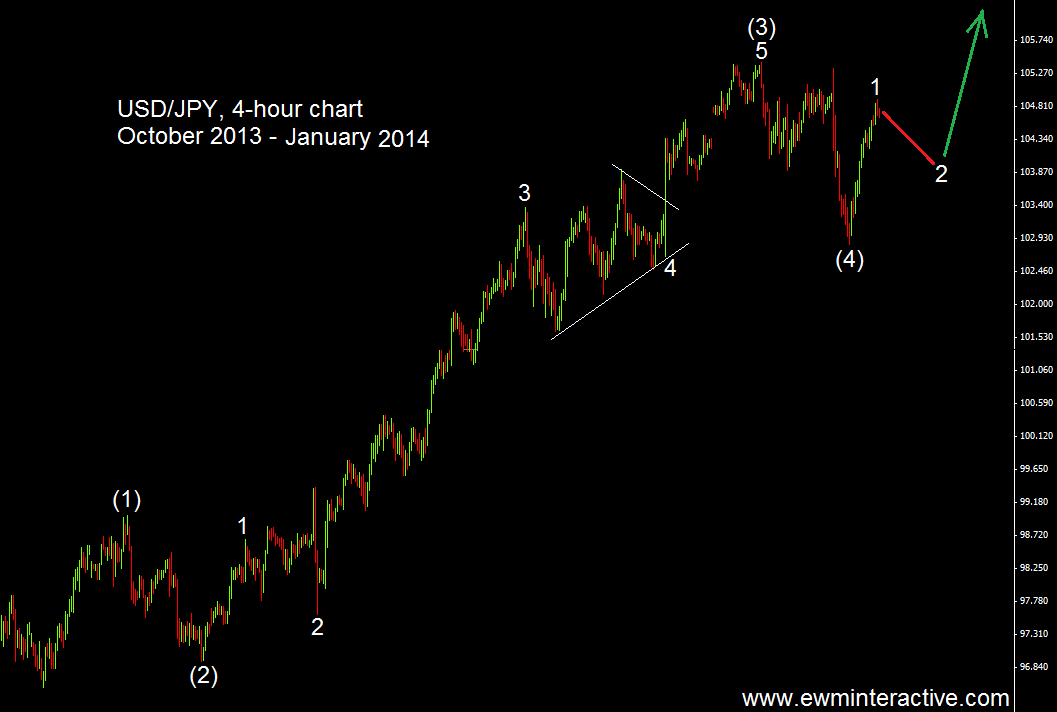 In other words, we are expecting a small correction in wave 2 of (5) and more strength after it. The invalidation level here is the bottom of wave (4).
Recommended reading: Where the protective stop should be?
Every trader has experienced that feeling of a stop-loss being hit. That is exactly what happened on the next chart.
 It it also our point of recognition, when we realize that one of the rarest patterns just materialized in front of us. A trucated fifth wave. Its wave structure is the same as in a regular fifth. The only difference is in its size. It is too short and does not reach the top of wave (3). So the right labeling from now on looks like this:
That is why we had our protective stop there. As Nassim Taleb puts it, "to protect against the black swan". Or as Goldman Sachs CEO Lloyd Blankfein says "given enough time, very low probability events not only can happen, but they absolutely will happen".