We last wrote about Pandora A/S in late-July, 2019. The stock was hovering around DKK 260 after a long and painful decline from over DKK 1000 in 2016. But business-wise, the Danish jewelry-maker was taking the right steps to fix things and straighten the ship.
Program NOW was initiated in 2019 to cut costs and improve in-store and online experience. Alexander Lacik was appointed CEO a few months later to help with the turnaround and brand relaunch. Shortly after that we took a look at Pandora's stock price chart…
…and found an Elliott Wave cycle there. The pattern had been in progress since 2011. There was a clear impulsive rally, labeled (1)-(2)-(3)-(4)-(5), where the five sub-waves of wave (3) were also visible. But since the theory states that a three-wave correction follows every impulse, Pandora's surge couldn't possibly continue.
Ahead of Pandora 's Successful Turnaround with Elliott Wave
The stock reflected the deteriorating fundamentals of the business and by the time of our previous article was trading at DKK 261. The correction looked like a complete (a)-(b)-(c) zigzag, which made us think the bulls can return right away. "Not so fast", said COVID-19.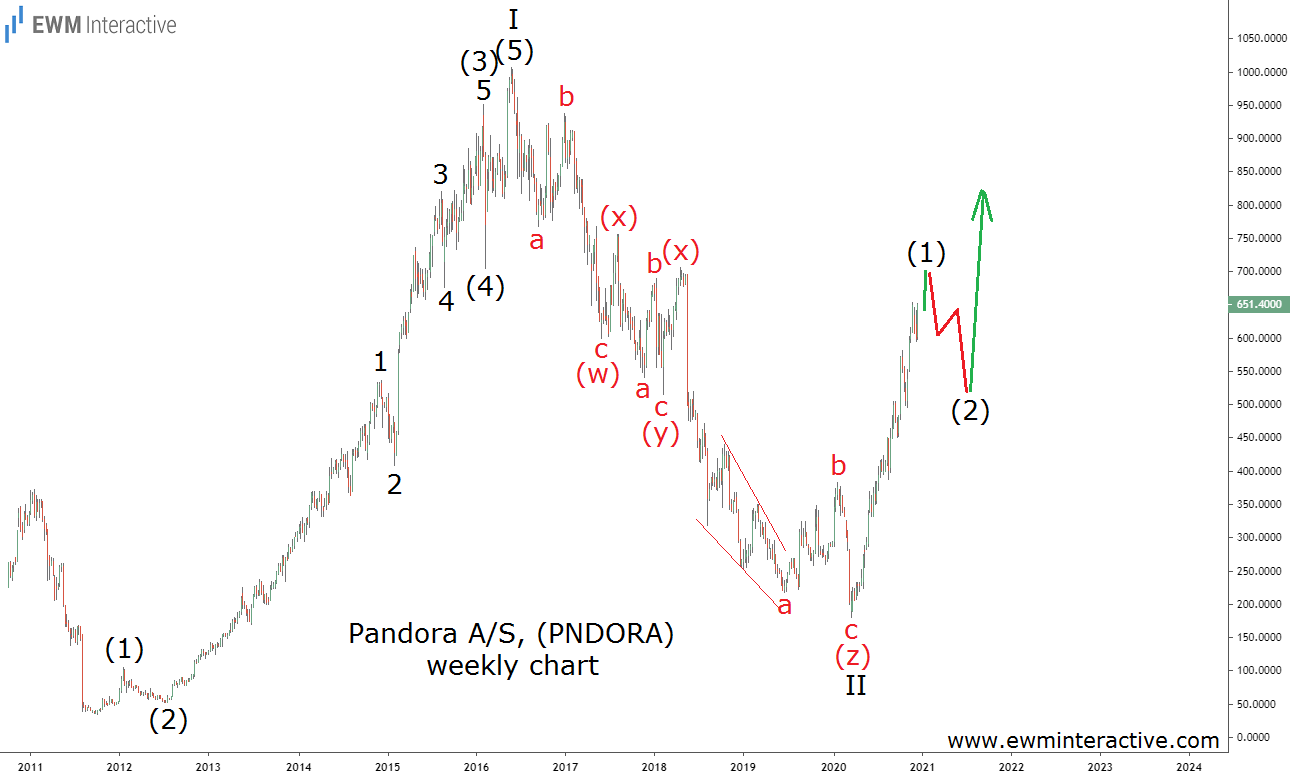 Needless to say, when we made that analysis we had no idea that a global coronavirus pandemic was on its way. The February-March selloff interrupted Pandora's recovery and caused a new low of DKK 180. It changed the structure of the correction from a simple (a)-(b)-(c) to a triple (w)-(x)-(y)-(x)-(z) zigzag.
It did not, however, change our long-term bullish outlook on Pandora. And since the company was financially stable and we don't use leverage to invest in stocks, the COVID drop didn't matter that much. The recovery might have been postponed but not cancelled.
Pandora stock closed at DKK 653 today, up 150% since our July 30, 2019 article. Investors who had the courage and resources to buy in March did even better. Of course, it is highly unlikely that the post-March surge can continue in a straight line. There will be retracements along the way. As long as the fundamentals and Elliott Wave analysis continue to confirm the bullish thesis, we will view these as buying opportunities.
Similar Elliott Wave setups occur in the Forex, crypto and commodity markets, as well. Our Elliott Wave Video Course can teach you how to uncover them yourself!